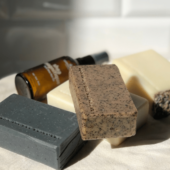 Coffee Morning
£12.50
Not your average cup of Joe, our Coffee Morning exfoliating bar is the perfect bar to tighten and smooth your sagging skin. Made using our signature blend of organic oils and butters which condition and moisturizer your skin whilst you cleanse. To this, we added a generous amount of organic coffee granules which are rich in antioxidants which reduce the effects of premature ageing, anti-inflammatory properties to reduce acne breakout and caffeine to tighten and increase circulation to the skin. Unscented, this bar is the perfect gift for your mature skin and coffee lovers everywhere.  
21 in stock
Description
Tone & Tighten
Made with real coffee and a blend of organic oils and buttes, Coffee Morning is packs a beauty punch against sagging, dry mature skin types. The natural caffeine content in the granules tightens the skin, increasing the appearance of tone and firmness, whilst the granules smooth and soften it. With natural antibacterial and antioxidant properties. A minimalist bar, Coffee Morning is an unscented, conditioning and exfoliating bar that is the perfect gift for all coffee lovers and its calming and soothing aroma is the perfect way to start your night or day.
Reasons to Love Coffee Morning
Rich in antioxidants and anti-inflammatory properties
Skin softening, smoothing & tightening
Unscented and suitable for sensitive skin
Rich in moisturising glycerine
Suitable for all skin types
Our Promise:
Cruelty-free
Small batch, handcrafted product
Recyclable packaging
African fair-trade ingredients used
Authentic and traditional cold process soap
Ingredients
Virgin Olive Oil, Organic Shea Butter, Water, Organic Coconut Oil, Organic Castor Oil, Coffee
Directions:
Wet the soap and build lather using your African Exfoliating Net or a soap bag, then wash your body with the suds. Wash away all traces of suds with your preferred water temperature. Dry skin and apply a generous helping of one of our butters or beauty oils.
Additional Information
Sodium Olivate (Virgin Cold-Pressed Olive Oil), Butyrospermum Parkii (Organic Shea Butter), Aqua (Water), Cocos Nucifera (Organic Coconut Oil), Ricinus communis (Organic Castor Oil). Coffee (Coffea arabica)
Do not eat, avoid contact with eyes, if suds do get into your eyes, wash with cold water. If irritation occurs discontinue use and seek medical advice
Only logged in customers who have purchased this product may leave a review.