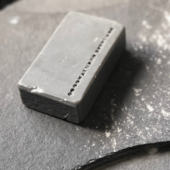 Muddy Waters
£12.50
Our
Muddy Waters
bar is the ultimate spa bar that your skin needs. Made with a generous helping of Dead Sea Mud and a sprinkling of activated coconut charcoal, this bar is the perfect skin balancer. With natural hydrating and firming properties, Dead Sea Mud soothes itchiness and reduces inflammation. A mineral-rich mud, it enhances skin elasticity, reduces the appearance of pores and smooths the appearance of fine lines and wrinkles. Its rich lather gently caresses the body, encasing it in an intoxicating aromatic blend of woody and camphoraceous Cedarwood, whilst the Lavender's middle notes bring in floral and herby notes. Together with the moisturising organic shea butter that softens and conditions the skin, you'll be getting dirty intentionally just to get clean using this bar.
21 in stock
Description
Resident Spa Bar
Our resident spa bar is the ideal product for anyone seeking gentle exfoliation, detoxing and an intoxicating blend of essential oils. To our already nourishing blend of organic oils and butters, we have added a generous amount of mineral-rich Dead Sea Mud, for its anti-inflammatory properties that soothe and calm the skin, its exfoliating qualities soften and smoother the skin, reducing the appearance of fine lines and wrinkles. Delicately scented with an intoxicating blend of Cedarwood and Lavender oils, both of which have a calming and sedative effect on the senses.  Gentle enough to use from head to toe, this bar is the perfect gift for the man (or lady) in your life.
Reasons to Love Muddy Waters
Deep cleaning detoxing spa bar
Gentle exfoliation for smoother skin
Intoxicating blend of Cedarwood and Lavender essential oil
Gentle enough to use on the face and body
Perfect men's cleansing bar
Our Promise:
Cruelty-free
Small batch, handcrafted product
Recyclable packaging
African fair-trade ingredients used
Authentic and traditional cold-process soap
Ingredients
Virgin Olive Oil, Organic Shea Butter, Water, Organic Coconut Oil, Organic Castor Oil, Pumice, Peppermint, Tea-Tree, Rosemary,
Directions:
Wet the soap and build lather using your African Exfoliating Net or a soap bag, then wash your body with the suds. Wash away all traces of suds with your preferred water temperature. Dry skin and apply a generous helping of one of our butters or beauty oils.
Additional Information
Sodium Olivate (Virgin Cold-Pressed Olive Oil), Butyrospermum Parkii (Organic Shea Butter), Aqua (Water), Cocos Nucifera (Organic Coconut Oil), Ricinus communis (Organic Castor Oil). Coffee (Coffea arabica)
Do not eat, avoid contact with eyes, if suds do get into your eyes, wash with cold water. If irritation occurs discontinue use and seek medical advice
Only logged in customers who have purchased this product may leave a review.